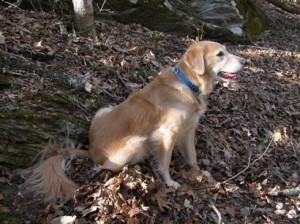 When I visit schools, I often talk about Bonnie, my Golden Retriever mix who inspires poetry.  We have fun together.  As my son points out, Bonnie and I are a lot alike.  We both like to explore in the woods, we both like to dig in the garden, and we both love blueberries.  Sometimes we both get into mud, even if we didn't intend to.  Oops!
Bonnie's enthusiasm, her wagging tail, her mischievous nature, and her interesting diet (?) have all inspired poems.  Here is a small sample.  As you read them, think about what you would say about your own pet.
PUZZLE MAKER
My yellow pup
ate up
the Encyclopedia Britannica
from "Silicate Minerals"
to "Singapore,"
leaving behind
a paper puzzle
of 24 pages.
CATCH
Oh, my!
Oh me!
My pup just ate
a bumblebee.
WAGS
A swift swipe
of a happy tail
wipes the coffee table clean
of dust
and collected treasures.
WRITING POEMS
WITH MY DOG
Bonnie and I
sit together
writing poems.
I hold the pen
as she rests her head
on my lap.