Orville Hicks • Mountain Stories – Mountain Roots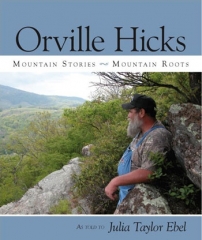 Storytelling comes naturally to Orville Hicks. After all, he grew up hearing Jack Tales and other folktales every day of his life. His mother, Sarah Harmon Hicks, entertained her children with stories as they worked alongside her: gathering herbs, tying galax bunches to sell, working in the garden, shelling peas. She had learned these stories from her father and grandfather. Many of the stories can be traced to Europe.
Long before storytelling patriarch Ray Hicks lured Orville onto a dark stage to tell a ghost tale, young Orville had been preparing unknowingly to become a storyteller.
Author Julia Taylor Ebel tells the storyteller's own story in Orville Hicks: Mountain Stories, Mountain Roots.
The book takes readers back to Orville's childhood and to the farm in the hollow where the mountain boy picked huckleberries, dug potatoes, played with a homemade ball and bat, and rode on a farm sled. Focus is given to such topics as herb gathering, ghosts on the mountain, childhood play, and the gut bucket, also known as the string bass. The book includes three of Orville's tales along with numerous personal stories. Readers will even find Orville's recipe for squirrel stew. Family photographs offer a view of mountain life.
Written in a straightforward style, the book leads readers, ages 8 to 80, to a quieter place and time before telephones and electricity linked to Orville's mountain home. Readers will see the beauty of mountain culture through Orville's eyes, and they will recognize the thread of story that is woven into every aspect of his life.
Orville introduces the book with his own poem, "My Old Mountain Home."
I'd like to go back to my childhood days——
No car, no TV, no telephones.
Just a simple way of living
In my good old mountain home….
Julia Taylor Ebel has drawn from countless conversations with Orville Hicks and his family. She followed Orville to storytelling sessions and visited with Rosa and Ted Hicks around the porch where, from childhood, Orville had heard the stories of his second cousin Ray Hicks. She hiked through the woods around Orville's childhood home in the hollow on Beech Mountain. She climbed to the outcropping high on Rocky Face, which overlooks the hollow where Orville's family lived, where he learned his stories, where he is rooted.
Orville Hicks: Mountain Stories, Mountain Roots, a biography for ages 8 to adult; 160 pages; $19.95 for hardcover (ISBN 1-933251-02-6) and $14.95 for softcover (ISBN 1-933251-03-4). Published by Parkway Publishers, Inc.
Study Guide
Available in Microsoft Word. Click here to download a copy.
To schedule a storytelling session with Orville Hicks, call him at (828) 386-1911.