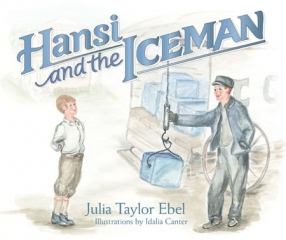 Idalia Canter, illustrator
John Stevens, title calligraphy
Hansi and his neighborhood friends delight in gathering ice chips from the horse-drawn wagon as Mr. O'Malley brings ice for Oma's icebox. But when Hansi's grandmother buys an electric refrigerator, he wonders about changes ahead—no more ice for Oma's icebox and no ice chips for Hansi and his sister, Elizabeth. From the eyes of a child in the late 1920s, Hansi and the Iceman, offers a nostalgic look at an earlier childhood pleasure. With Idalia Canter's delicate watercolors, Julia Taylor Ebel's story honors historical details while reflecting experiences of children across the country as icemen still made home deliveries. Endnotes and photographs enrich historical perspectives and challenge readers to look at the certainty of change that every generation faces. For those children fascinated by the movie Frozen, the book offers an American view of icemen and ice harvest. For those who remember ice delivery or even visits to the local ice house, the book calls out a bit of reflection.
Hansi and the Iceman is sure to spark memories
for sharing across generations.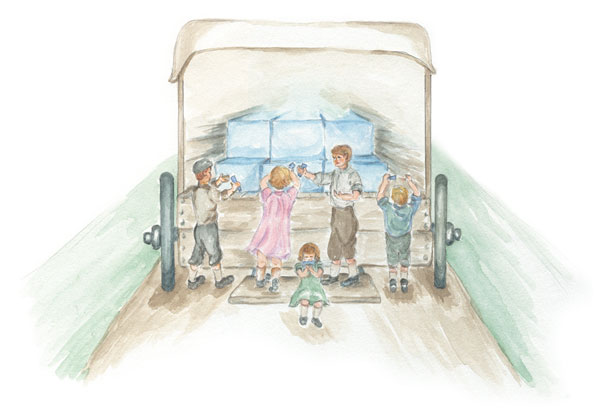 Study Guide
Includes study points for:
social studies (historical periods, change, immigration)
writing
science
technology
onymastics (the study of names)
tradition
languages
further reading
and more
ISBN: 978-1-933251-81-3, Hardcover; 2014; $19.95
Published by Parkway Publishers, Inc.
Study Guide
Available in Microsoft Word. Click here to download a copy.