Dresses, Dreams and Beadwood Leaves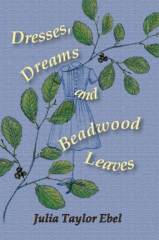 It's not
that the dress Mama made
isn't pretty,
but something
about store-bought clothes
tells a girl
she's got a place
in this world.
Rosa May wears dresses made from feed sacks, but her earthy knowledge of roots and herbs gives her hope of owning a store-bought dress and feeds her dream of wearing nurse's white. Dresses, Dreams and Beadwood Leaves sets a girl's journey to mold her own self esteem within the cultural history of the North Carolina mountains in the late 1940s, where root and herb gathering has offered many mountain people a way to meet both needs and dreams.
Dresses, Dreams and Beadwood Leaves includes delicate pencil sketches and end notes on root and herb gathering.
What Others Say
"In this coming of age story told through taut and tender poems, Julia Ebel has captured the hopes and dreams of an Appalachian girl and painted a loving portrait of a bygone era. Young readers will warm to the selfless and spirited narrator."
–Carole Boston Weatherford, author of Dear Mr. Rosenwald
"Rosa May Liddy of Deep Gap, North Carolina, brings her dreams, her hurts, her love of place and family up close and personal in these beautifully detailed poems. In them, Julia Ebel has stitched the pieces of Rosa May's experience into the story of a young girl who loves the landscape in which she lives but feels the shame of realizing that her background makes her, in her well-worn feed sack dresses, an object of scorn among her town-bred schoolmates. Rosa May has the natural world of the Appalachian Mountains to heal her hurts, though, and a family that teaches her how to live in that world. Her mama 'sees the pretty in common things,' and shows her how to gather beadwood leaves (witch hazel) to sell for new clothes. Ebel's sound knowledge of the mountains as well as the rhythms of a young girl's emotions makes these poems irresistible. The reader can't help falling in love with Rosa May. I know I did."
–Kathryn Stripling Byer, North Carolina Poet Laureate, author of Wildwood Flower and Black Shawl
"Ebel's lovely free verse narrative invites us to experience with her the wishes and dreams of a young daughter of a family at a subsistence level of economics, set in the southern Appalachian Mountains, but just as true for girls in any culture in the US. It is heartbreakingly is reminiscent of Dolly Parton's Coat of Many Colors.
"For teachers, this book is a lesson in understanding the classroom environment, as experienced by young girls in many classrooms even today, the beauty of the language and images invite young reader involvement as well. Sure to invite discussions when shared with groups of pre-teens and teenagers, the book addresses pertinent issues in today's world."
–Gloria Houston, author of Year of the Perfect Christmas Tree
Published by High Country Publishers/Ingalls Publishing Group
(ISBN 978-1-932158-85-4); Softcover: $8.95
Author's Comments
The Story's Beginnings:
Dresses, Dreams and Beadwood Leaves draws from my curiosity about nature and my love of the mountains and its people. I first heard the word "beadwood" from my mother-in-law, who, along with her sisters, gathered the leaves to sell for pennies. They—like many other Southern Appalachian Mountain families—used this income to buy necessities, such as shoes and clothes for school. Other families paid taxes with earning from root and herb gathering.
I listened to this family as they talked about their early experiences. I listened to other mountain people as well and heard the common thread of the land's providing for their needs.
I also heard the sting and the longing that some mountain youth experienced when others beyond the mountain farms and hollows defined what was valuable by monetary terms. Rosa May's story looks at this question of what defines our worth and what gives us "a place in this world."
The Form:
I am not a big talker and don't claim to be a master of conversation. Perhaps that is why poetry speaks to me. A few words, framed by white space, can say so much. In simplicity, the heart can be touched.
Stories in poetry have intrigued me. I began writing Rosa May's story in short lines that aimed for the essence of her experience. The simplicity of the setting and poetic form felt like a match. I hope that the form will slow readers enough to see the significance and the power of little things—as small as a stem of Queen Anne's lace.