Jack Tales and Mountain Yarns: As Told By Orville Hicks
Sherry Jensen, illustrator
Afterword by Thomas McGowan
Awarded the 2009 Aesop Accolade by the American Folklore Society
Orville Hicks has enthralled audiences with Appalachian folklore for more than two decades. Listeners beyond the porches of Beech Mountain have asked for a book of Orville's tales.
Jack Tales and Mountain Yarns captures the voice of the master storyteller in more than 20 transcribed stories, paired with lively pencil sketches. Having grown up in a hollow near Beech Mountain, he knows the mountain setting and the ways of his clever character Jack.
Orville heard Jack Tales and other mountain lore from his mother—tales passed on from her father, Kell Harmon, and from his father, Council Harmon. Orville also heard tales from his second cousin, the well-known mountain storyteller Ray Hicks.
As Orville continues this rich tradition of storytelling, those who hear his tales will notice the ring of authenticity in his words and voice. They will glimpse a mountain boy's intimacy with the woods surrounding the family farm. They will see his humble lifestyle in his characters, including Jack.
Jack Tales and Mountain Yarns includes a variety of tales that will entertain children and adults alike as they give insight into Appalachian Mountain life. Playful sketches by Sherry Jenkins Jensen capture images of Jack and the mountain setting with insight and respect. Endnotes include a glossary, an original story in Orville's handwriting, and a study guide for further thought. For ages 8 to adult.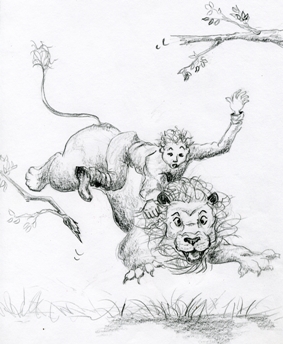 Comments and Reviews
Orville Hicks is the most talented contemporary teller continuing the traditional Appalachian stories of the boy-trickster Jack.
–Dr. Thomas McGowan, Appalachian State University (from the Afterword)
All the material is carefully edited, with close attention to the rhythms of Hicks' speech and the Appalachian dialect…an excellent addition to the already significant library of publications dealing with these important components of American folklore.
–James E. Doan, Journal of Folklore Research
Anyone wishing to learn more about the art of traditional storytelling will learn much from this volume…. –American Folklore Society
Capturing the essence of such a vibrant character on paper should be a difficult task, but Julia Ebel manages the obstacles of transcription with the ease necessary for the relaxed styles of Orville Hicks.
–Ann Chesney, North Carolina Folklore Journal
ISBN: 1-933251-64-6, Hardcover; 2009; $19.95
ISBN: 1-933251-65-3, Paperback; 2009; $14.95
Published by Parkway Publishers, Inc.
Distributed through John F. Blair, Publisher, 1406 Plaza Drive, Winston-Salem, NC 27103; 1-800-222-9796; www.blairpub.com
Also available through national distributors, including Baker & Taylor and Ingrams.
Study Guide
Available in Microsoft Word. Click here to download a copy.
To schedule a storytelling session with Orville Hicks, call him at (828) 386-1911.